---
PARATHEATRICAL RESEARCH PRESENTS
A Paratheatre Video Document by Antero Alli

---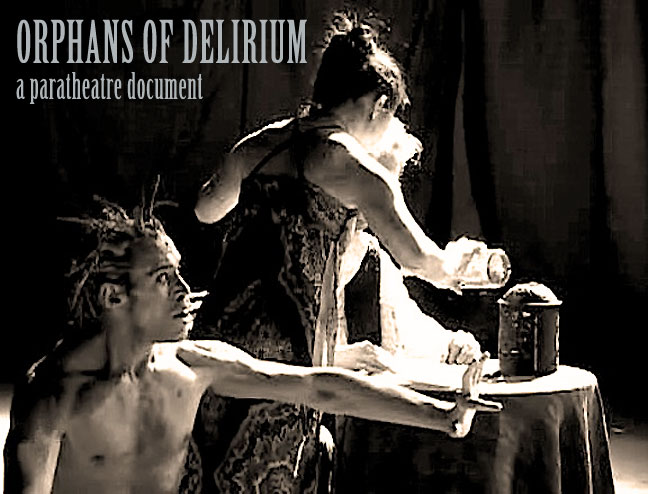 Paradox Pollack as the Gut and Alaska Yamada as the Heart of The Actor (Brian Livingston)

"The performers in these rituals look like a cross between a person,
an elementary force such as a river or a storm, and a wild animal.
Watching these rituals is a little like looking through a window at a
dramatic and captivating bit of weather... absolutely mesmerizing
to watch these elemental forces gathering themselves and affect
each other." -- DAVID FINKELSTEIN, filmthreat.com (4 stars)

---
"ORPHANS OF DELIRIUM" - The Story and the Backstory

---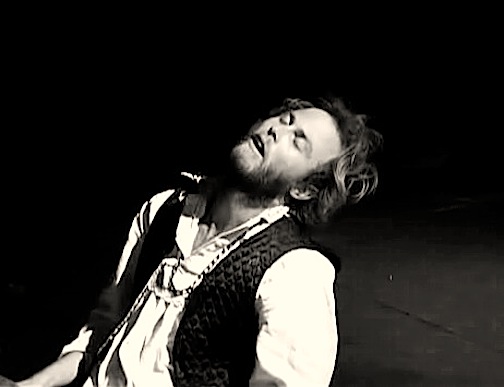 Brian Livingston as THE ACTOR on the absinthe binge

Haunted by the deaths of his friends and loved ones, an actor drifts
through reveries of an absinthe binge that erupts in a bevy of strange
ritualistic dreams from which he periodically awakens to the spirits
of his Head, Heart and Gut reacting in spasmodic revolt.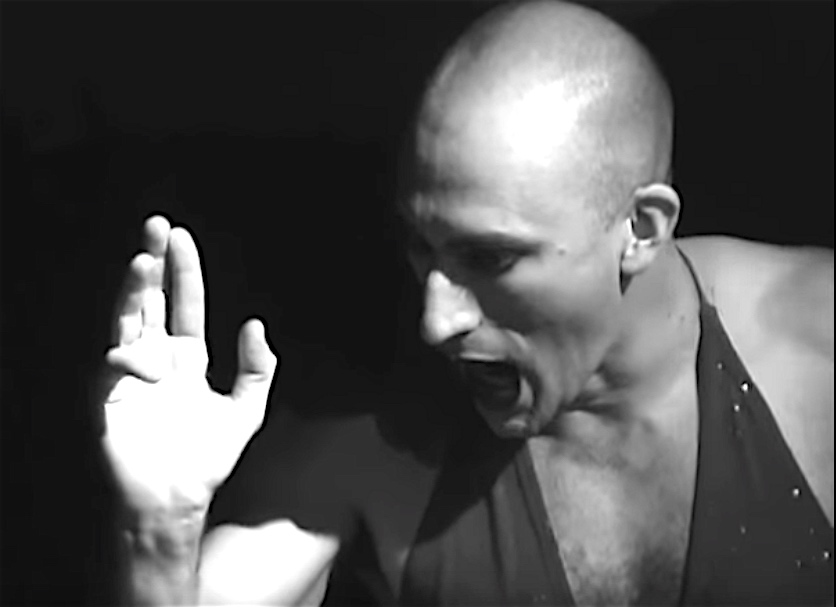 Paradox Pollack as The Gut of the Actor. Nick Walker as the Magus

"ORPHANS OF DELIRIUM" (2004; 84 min. USA) Inspired by the paratheatrical work of Jerzy Grotowski, in 1977 Antero Alli proceeded to develop an original paratheatre medium combining methods of physical theatre, abstract dance, vocalization, and Zazen -- to access and express the internal landscape. In 2004, Alli trained eleven individuals in his paratheatre methods to develop initiatic rituals that the group performed before a stunned San Francisco audience in May of 2004. The video document produced for this event intercuts between this performance and candid interactions between the dirctor and two of the performers -- Nick Walker and Paradox Pollack -- discussing their experiences and the nature of this dynamic somatic process.




---
WATCH THE VIDEO!
CREDITS, PROGRAM NOTES, JOURNAL ENTRIES

---


featuring
PARADOX POLLACK, NICK WALKER, ANTERO ALLI,
BRIAN LIVINGSTON, JULIAN SIMEON, ALASKA YAMADA,
SERENE ZLOOF, JUSTIN PALERMO, JAKOB BOKULICH,
DESMONDE DAISY, GABRIEL DIETZ, and ADAM PALERMO.
Videography by Steve Mobia, Sean Christopher and Antero Alli.
Music & soundscape by Sylvi Alli. Edited by Chris Odell and Antero Alli.
Produced by Vertical Pool & ParaTheatrical ReSearch.
Written and directed by Antero Alli.

ABOUT THE LIVE PERFORMANCE
story, program notes, more pix
DIRECTOR'S RITUAL JOURNAL ENTRIES
observations from the pre-performance lab
PRODUCTION NOTES FROM THE DIRECTOR
Antero Alli, Jakob Bokulich and Nick Walker on their experiences
---
about the filmmaker
---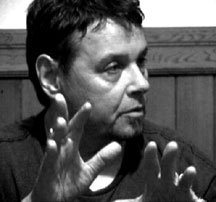 ANTERO ALLI has written, directed, and performed in numerous experimental theatre productions between 1975 and 2005. His paratheatre work is documented in his book, "Towards an Archeology of the Soul" (Vertical Pool, 2003), in numerous videos, and in academia by Nicoletta Isar, Professor at the Institute of Art History, Copenhagen University. Alli's personal paratheatre experience inspired the creation of a series of feature-length art films including "The Greater Circulation" (2005; 93 min) a critically acclaimed cinematic treatment of poet Rainer Maria Rilke's "Requiem for a Friend", and "The Invisible Forest" (2008; 111 min) a docufiction exploring the radical ideas of French Surrealist playwright, Antonin Artaud.

paratheatre bio
background, works produced, pix


paratheatre manifesto
by Antero Alli


filmography
completed works, clips, vision statement, reviews