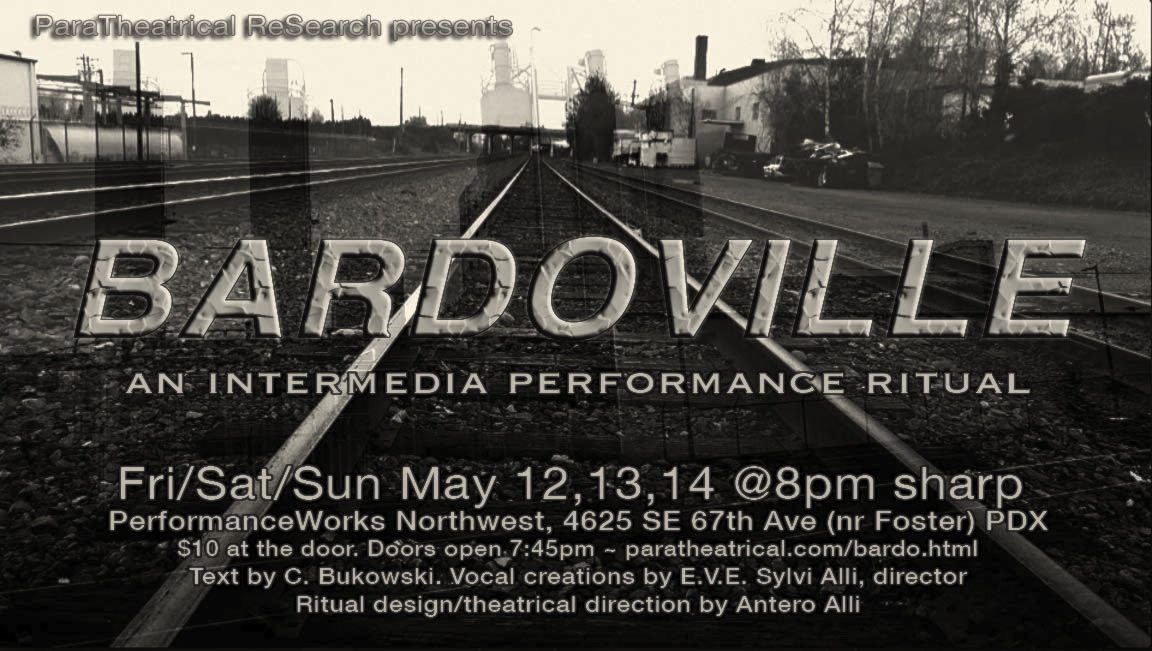 ...a place between places, the old world collapsing behind us,
the new world nowhere in sight, a drunken poet bangs out a
torrent of poems unleashing spirits, demons, angels of the era...


---
Physical theatre, performance poetry, vocal improvisations swirling
in a heady cocktail chaser of chaos, delight, ruin, and rebirth.

featuring...
ANTERO ALLI, MEMORIE EDEN, WENDY ALLEGAERT,
HANK PETERSON, WES MARTUSEWICZ, MAPLE HOLMES,
CIBYL KAVAN. With RANDAL S. SLAGER as The Poet.
Tech Assist by ZACH MARTIN

Vocal creations by SYLVI ALLI and E.V.E. Text by C. BUKOWSKI.
Produced by PARATHEATRICAL RESEARCH PDX
Designed and directed by ANTERO ALLI

BARDOVILLE - Vision Statement by Antero Alli

ParaTheatrical ReSearch PDX is dedicated to an insurrection of
the poetic imagination through an intermedia treatment of physical
theatre, music, song, poetry, and film.  Antero Alli, artistic director

E.V.E. (Experimental Vocal Ensemble) is a women's ensemble devoted
to the exploration of a range of musical influences through vocal
experimentation and improvisation. Sylvi Alli, musical director.

---



no leaders please


invent yourself and then reinvent yourself,
don't swim in the same slough.
invent yourself and then reinvent yourself
and
stay out of the clutches of mediocrity.
invent yourself and then reinvent yourself,
change your tone and shape so often that they can
never
categorize you.
reinvigorate yourself and
accept what is
but only on the terms that you have invented
and reinvented.
be self-taught.
and reinvent your life because you must;
it is your life and
its history
and the present
belong only to
you.

- C. Bukowski