2016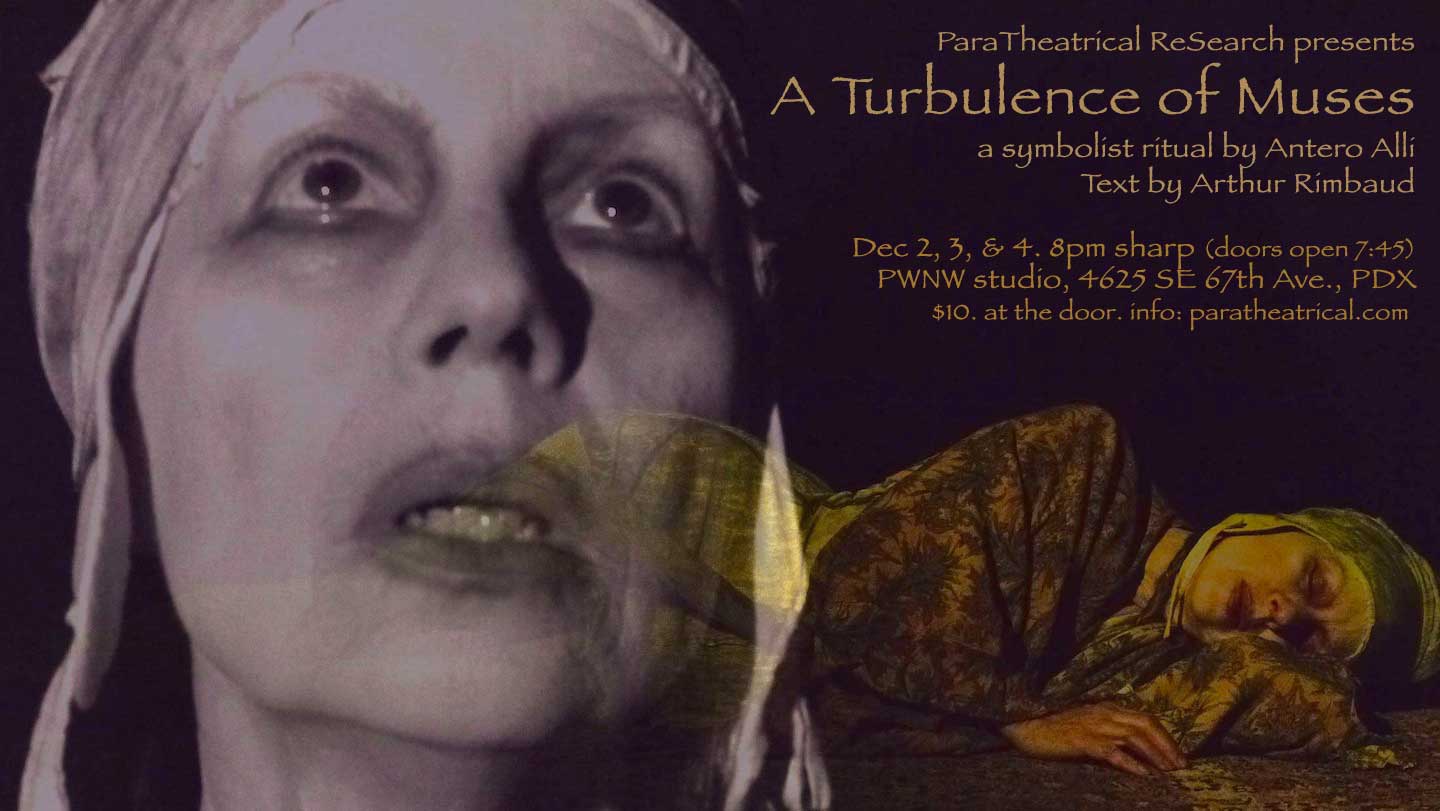 A TURBULENCE OF MUSES is a symbolist ritual of eight players
representing diverse aspects of one entity, the poet Arthur Rimbaud,
undergoing a systematic derangement of all the senses towards the
creation of poetry. Is this a ritual disguised as theatre or is it theatre
disguised as a ritual ? Or an avant garde extraterrestrial poetry slam?

---
THE PLAYERS

---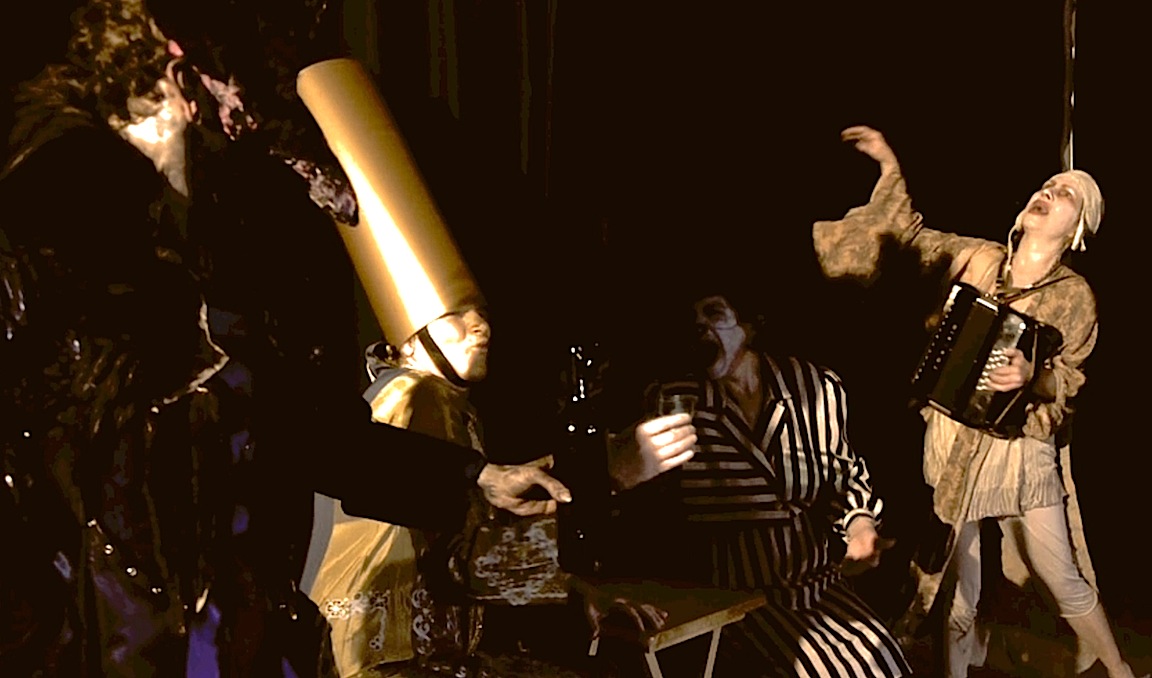 WES MARTUSEWICZ as Raven, LD McCLURE as Tubehead, WENDY ALLEGAERT
as Krunk and SYLVI ALLI as Rimbaud

THE PLAYERS

SYLVI ALLI as Rimbaud...
the Dream Ego in pursuit of intoxicating states of spirit possession! 

BRANDT STICKLEY, MEMORIE EDEN, HANK PETERSON as The Dreamers...
a Family of Spirits in kinship with Rimbaud.

WENDY ALLEGAERT as Krunk...
Rimbaud's Inner Critic as Clown.

LD McCLURE as Tubehead...
an Unconscious Oracle who falls in love with Krunk!

WES MARTUSEWICZ as Raven...
the Spirit of the Poetic Imagination with a direct line to the Voice!

KATESSA HARKEY as The Voice...
a Disembodied Entity vocalizing Rimbaud's completed poems.


The Poems
Mystic
Marine
Flowers
Fairy
Motion
Morning of Drunkeness



---
VIDEO DOCUMENT OF THE PERFORMANCE
---




Watch the performance in its entirety (39 min)
<https://vimeo.com/202572030>

Someone asked me what this show is about. It's not your mama's kitchen
or your dad's theatre or your hipster friends poetry slam. It's a bit of a
wild party ritual fraught with dour clown conversions, drunken waltzes,
hyper-aromatic flowers, and whatever orchestrated chaos erupts
from the No-Form corridors each night. - Antero Alli, director


---
THE CREW, VISION STATEMENT, CONTACTS
---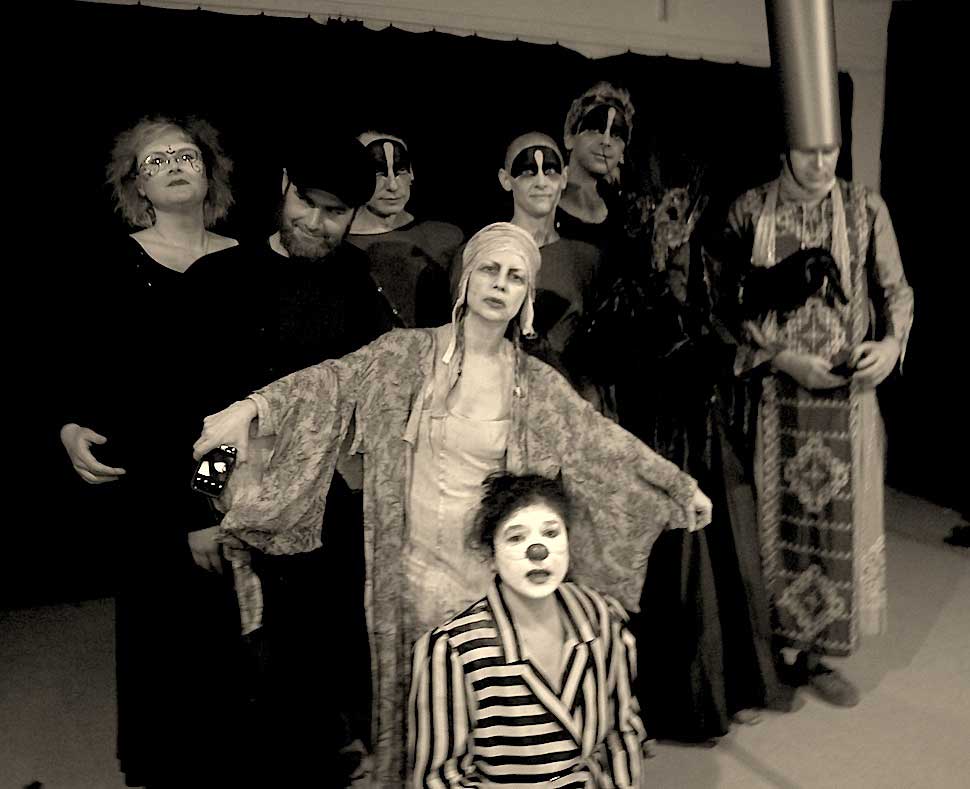 "A Turbulence of Muses" was partially developed with the cast
over ten Sunday nights at Performance Works Northwest, PDX.

KATESSA HARKEY & SYLVI ALLI, Costumes. ARÚN JOSEPH RAGAN, Mask
SAGE REILLY, House Manager. ZACH MARTIN, Tech Assistance
Poetry by ARTHUR RIMBAUD (Louise Varese, Translator)
Music by SYLVI ALLI. Designed & directed by ANTERO ALLI
Produced by ParaTheatrical ReSearch.



Click above for Vision Statement