---
Paratheatre Into Performance

---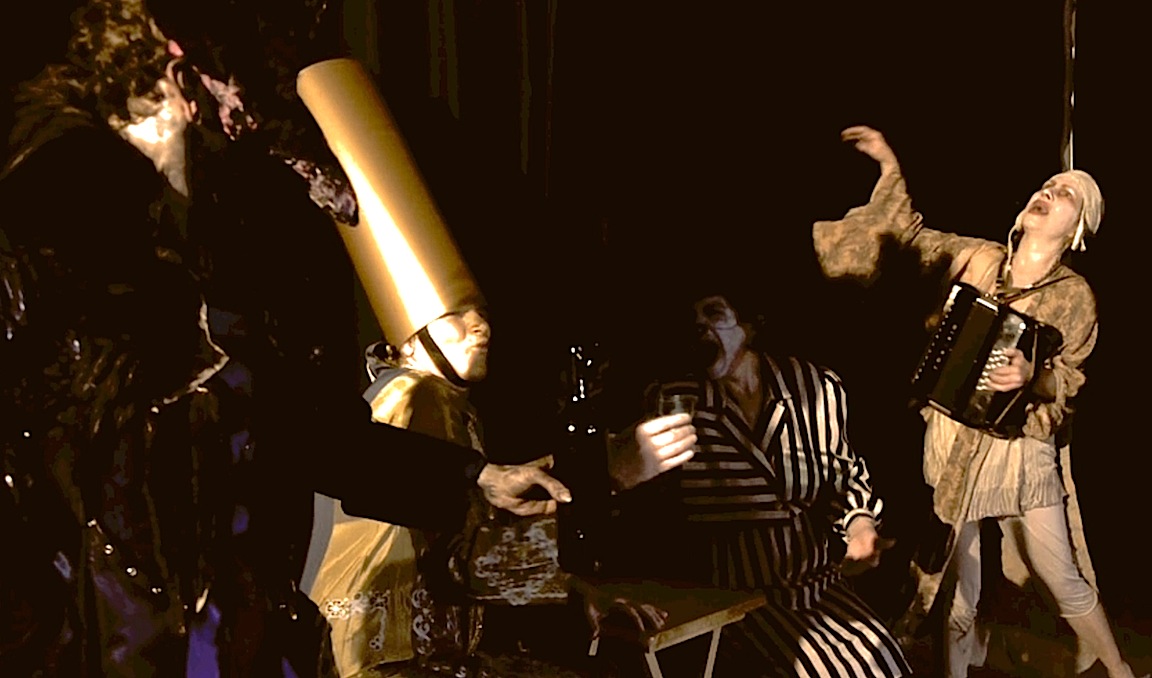 "A Turbulence of Muses" (December 2016 performance)
click above for production information

PARATHEATRE INTO PERFORMANCE
As of Jan. 2017, Zero Labs (entry level work) will no longer be offered.
Weekend Training Intensives (Sat/Sun; 6 hours each day) are periodically
scheduled for new participants with the option of continuing in Paratheatre
Labs (10-16 weeks) to develop new experimental theatre works.
Training Intensives, Labs, Performances in Portland, Oregon.
Antero Alli, Artistic Director; Sylvi Alli, Music Director
antero@paratheatrical.com and 503-299-4064


PODCAST (Jan.26, 2017)
Antero Discusses the Transformative Influence
of Paratheatre and its Application in Performance
by Andrieh Vitimus and Jason M. Colwell



---
The 2-Faced Clowns Lab
10 Sundays; Feb. 5 - April 9

---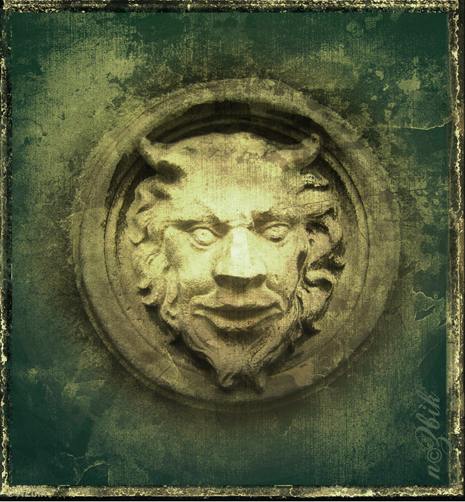 The 2-Faced Clowns Lab
10 Sunday Nights, Feb. 5th - April 9th
Click above image for details

The sometimes difficult exposure of personal and collective hypocrisy can,
with self-compassion, heal our relationship with the Personal and Collective
Shadow (our repressed negatives). Paratheatre training will be introduced
towards embodying and expressing this shadow work through presence,
movement, and dynamic comic characters. NOTE: This lab now full.

---
"EVE: Experimental Vocal Ensemble"
Auditioning Female Singers (February)

---
Auditioning female singers (ages 24 to 74) for a small vocal group
exploring melodic, dissonant, rhythmic, and extended tone expression.

We will work with phrases from various musical pieces
- Eastern European, early music, Classical -
extending and developing these through group improvisation.
The group will meet weekly in Portland beginning late February '17

Location and time TBA.

There is a possibility of performance in mid-May
in collaboration with a theater piece that is in development.




---
"THE BOOK OF JANE"
March 24th Film Screening

---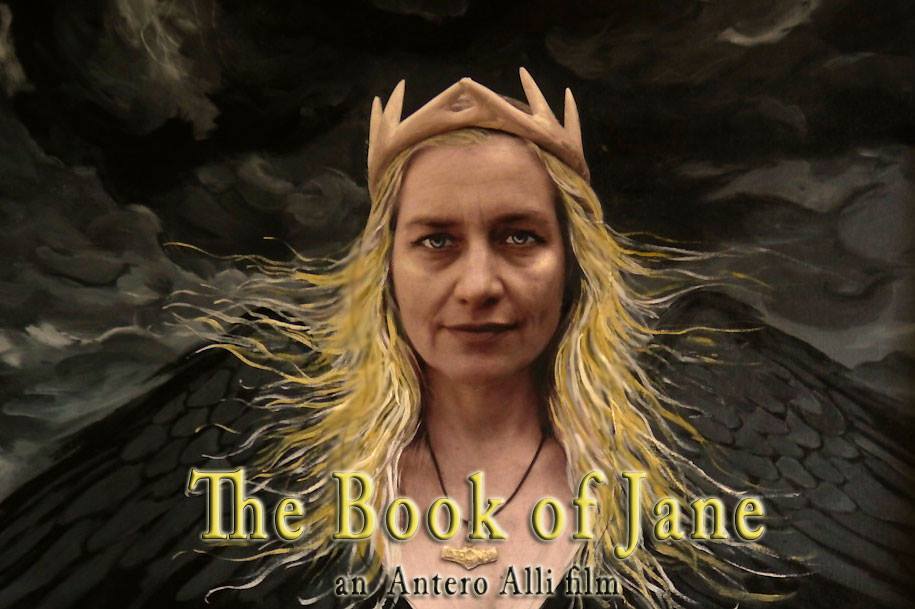 "The Book of Jane"
A Film by Antero Alli (2013; 117 min.)
Friday March 24th, at 7pm. $8 admission.
Clinton Street Theater, 2522 SE Clinton St., Portland
Sylvi Alli will sing songs before the film starts.
Antero will host a Q&A after the movie.
Click above image for details

THE BOOK OF JANE is about three women of different generations
mirroring the Triple Goddess mythologies of Maiden, Mother, Crone.
This vision guided me to the Irish Raven Goddess of The Morrigan,
"the Phantom Queen" of fate, strife, and battle. These elements
combined to show me how the shocks and traumas of our lives
can act as evolutionary triggers, even though by outward
appearances it may seem otherwise. - Antero Alli




---
"BARDOVILLE"
A PARATHEATRICAL PERFORMANCE RITUAL
Fri/Sat/Sunday May 12-14; 8pm

---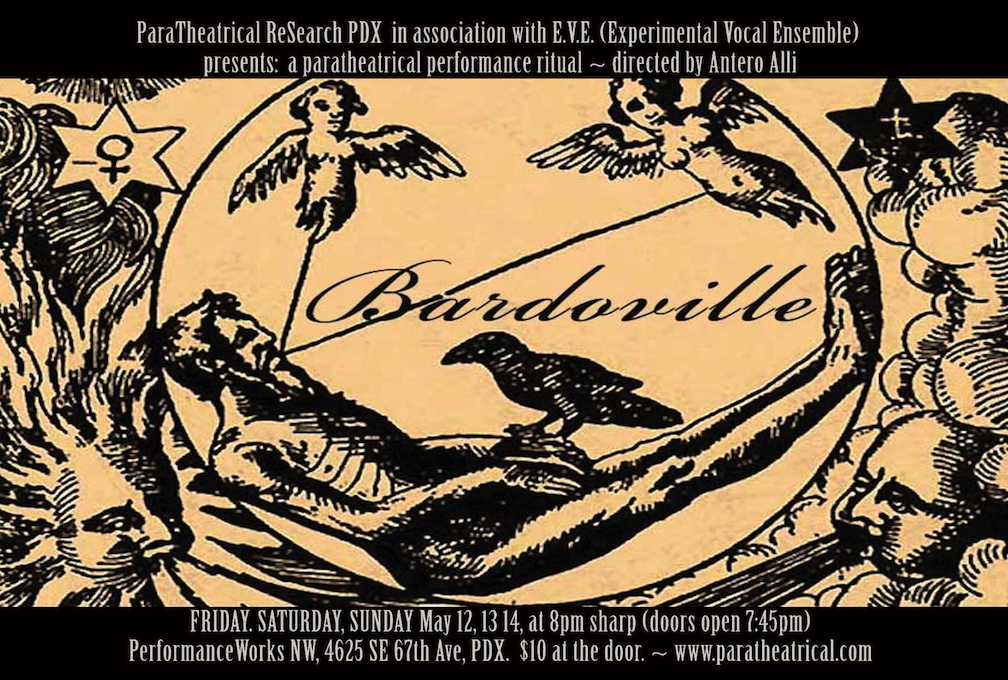 ~ CLICK ABOVE FOR MORE DETAILS ~



---
ParaTheatrical ReSearch Video Documents
"dreambody/earthbody" and "A TURBULENCE OF MUSES"
WATCH THEM FOR FREE - in their entirety - click the images below

---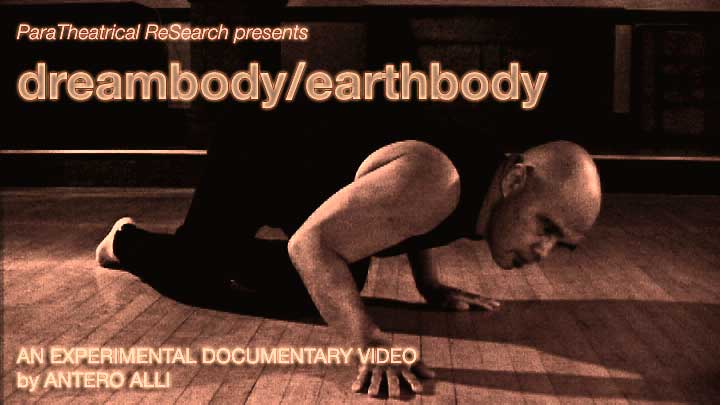 xx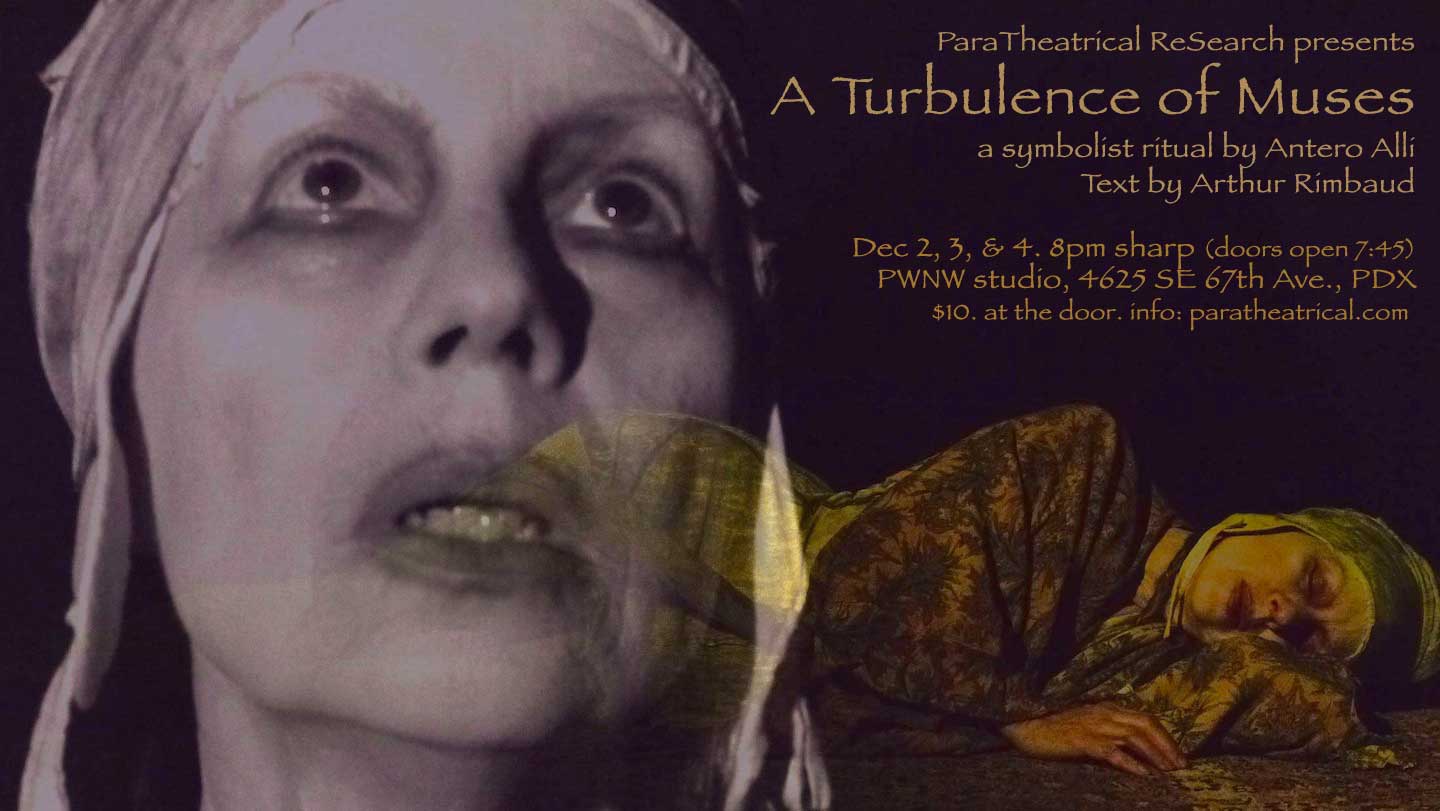 "dreambody/earthbody" and "A Turbulence of Muses"

"dreambody/earthbody" (2012; 78 min.) experimental documentary
Seven individuals prepare and execute a ritual choreography of
three to five movements recalled from their nocturnal dreams.
Created over seven weeks at Finnish Kaleva Hall in Berkeley CA

"A Turbulence of Muses" (2016; 40 min.) performance document
A symbolist ritual of eight players representing diverse aspects of
one entity, the poet Arthur Rimbaud, undergoing a systematic
derangement of all the senses towards the creation of poetry.
Performed over three nights at PWNW, Portland OR



---